POWDER COATING - surface & design
Powder coating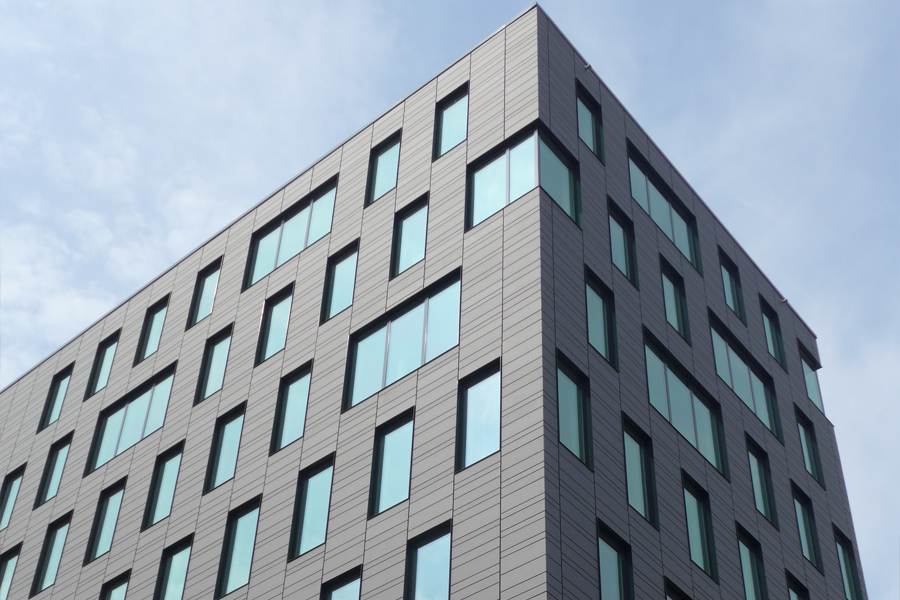 Powder coatings, also called stove enamel finishes, adhere excellently to the substrate. They may be milled and offer both a high chemical and thermal resistance.
Electrostatic polyester resins are sprayed on electrically grounded parts by means of compressed air. Electrostatic attraction makes a pre-defined amount of powder adhere to the component. In the smelting furnace the polyester resin is reduced into a fluid state and forms a continuous polyester resin film which is characterized by its high resistance against weathering and mechanical stress.
Electrostatic powder coatings represent an environmentally sound technique as they do completely forego the use of solvents and are characterized by a highly efficient recovery of residual powder (about 98 %).

Potential component size:
length 7000 mm x width 800 mm x height 2000 mm
Powder coating RAL Standard colors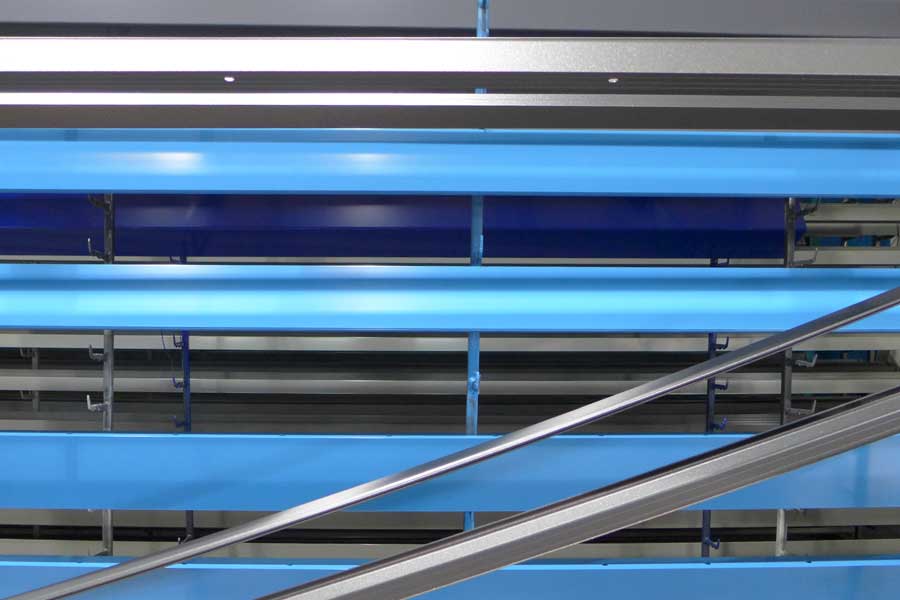 RAL standard colours are available at short notice from our warehouse. With 75% ±10% the gloss level is that of silk gloss. Compared to high-gloss surface finishes they show a considerably higher resistance against mars and weathering phenomena.
Please ask for specimen or samples!

Here you can find our online colour chart with RAL - colours available from stock.
Special - powder coatings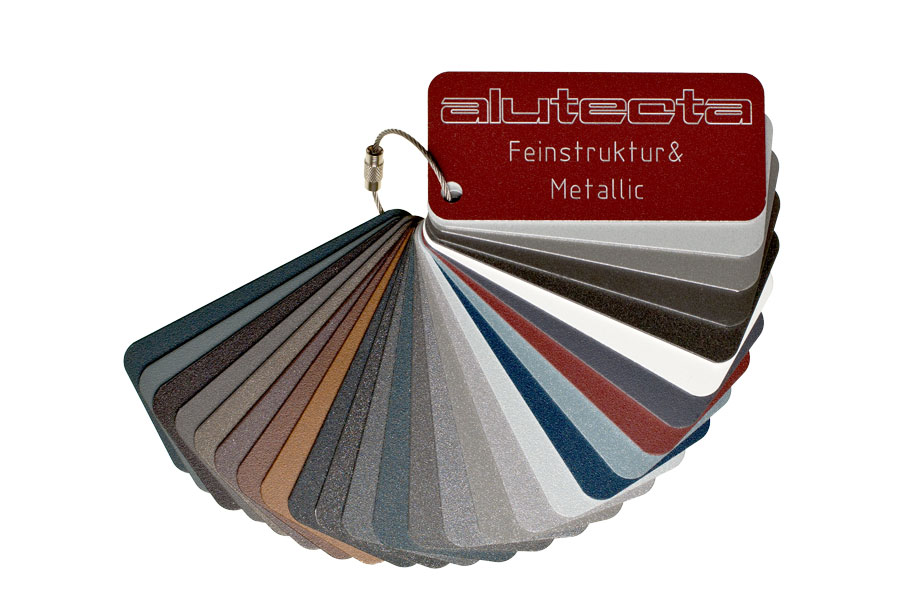 Besides RAL standard colours there is a whole range of special-effect powder coatings. The developments in this field open up an even greater offer of colours and possibilities. Depending on the powder composition a huge variety of effects can be achieved. Almost unlimited aesthetic possibilities are thus offered from matt to high gloss, from fine to coarse textures and from metallic to glitter coatings. Please contact us for further information on indoor or outdoor applications, prices, orders, delivery times etc.
Please ask for specimen or samples!

Colour chart with fine texture & metallic colours.
High quality powder coating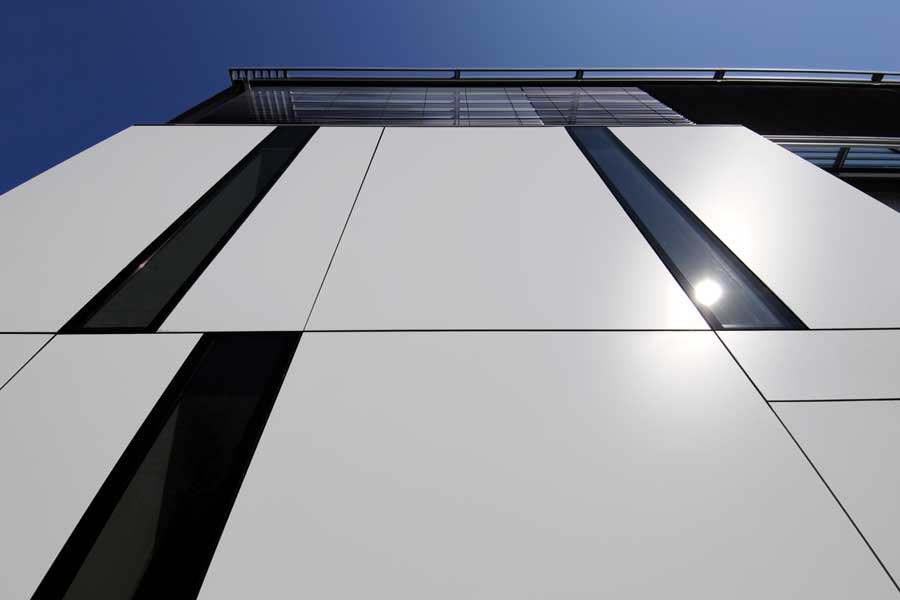 Our standard quality is perfectly suited for aplications with normal environmental and weather conditions with standard UV-radiation. For special requirements with high UV- and weathering resistance we recommend the use of high weather resistant powder qualities HWFclassic or HWFsuperior. All HWF powders include the DURA®clean technology with dirt-repellent finishing features.
more informations
Deep matt Powder DURA®xal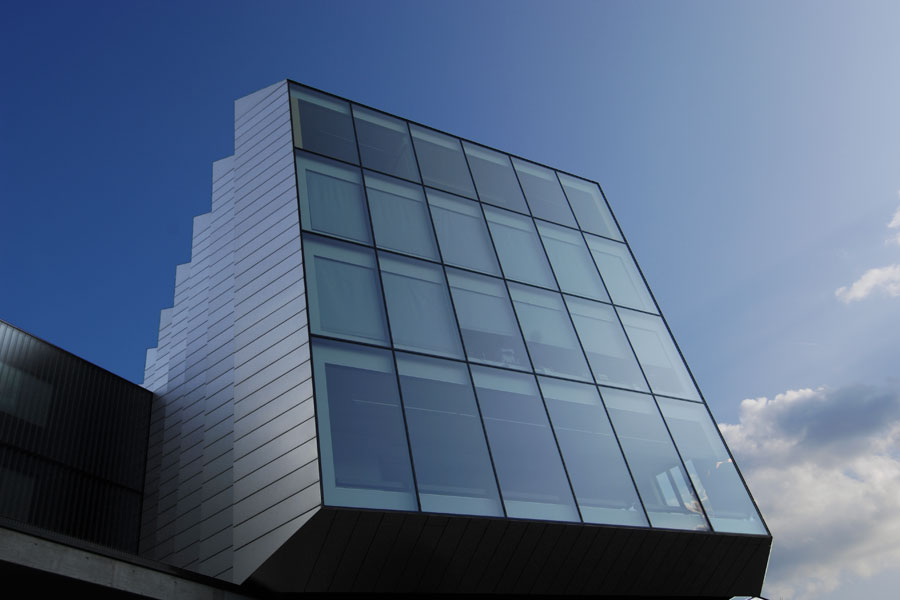 The elegant IGP-DURA®xal displays an inimitable material character and thanks to the fine micro-structure has the velvety impression of a matted metal. It is extremely easy to clean and insensitive to weather influences and mechanical effects.
more information
UniversAL Powder coating cleaner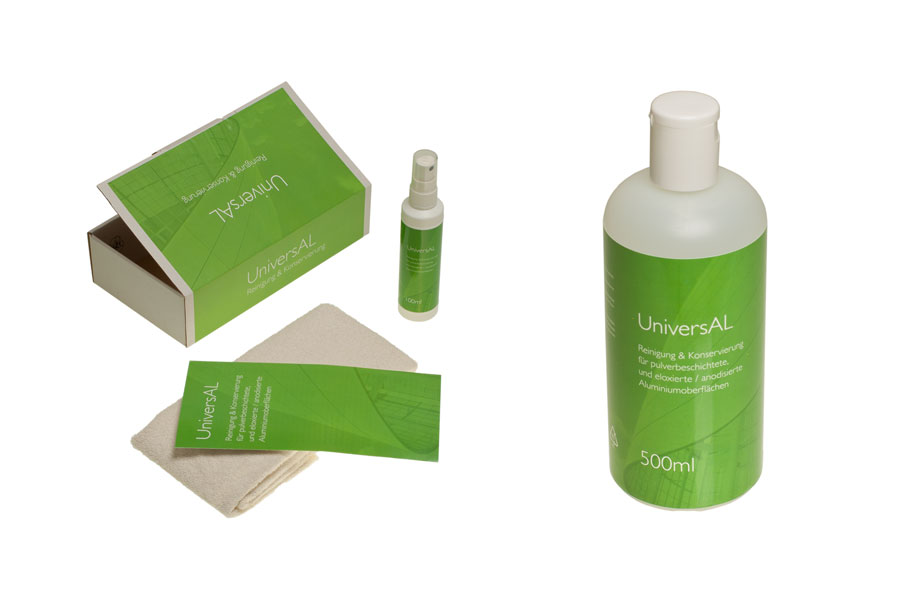 UniversAL Cleaner provides cleaning & protection for powder coated surfaces. It can be applied on elements with smooth coloured varnish or structured and metallic finishes. The UniversAL cleaner is a special product for the maintenance and the protection and of powder coated architecture elements. The ingredients combine care components, solvents and preserving agents. UniversAL also protects surfaces from weather effects and environmental pollutants. There are no polishing agents or silicon compounds or aromatic hydrocarbons. UniversAL Cleaning & Protection for powder-coated or further coated / anodised aluminium surfaces comes in a set with a 100 ml bottle plus cleaning cloth or in a 500 ml bottle.
Pretreatment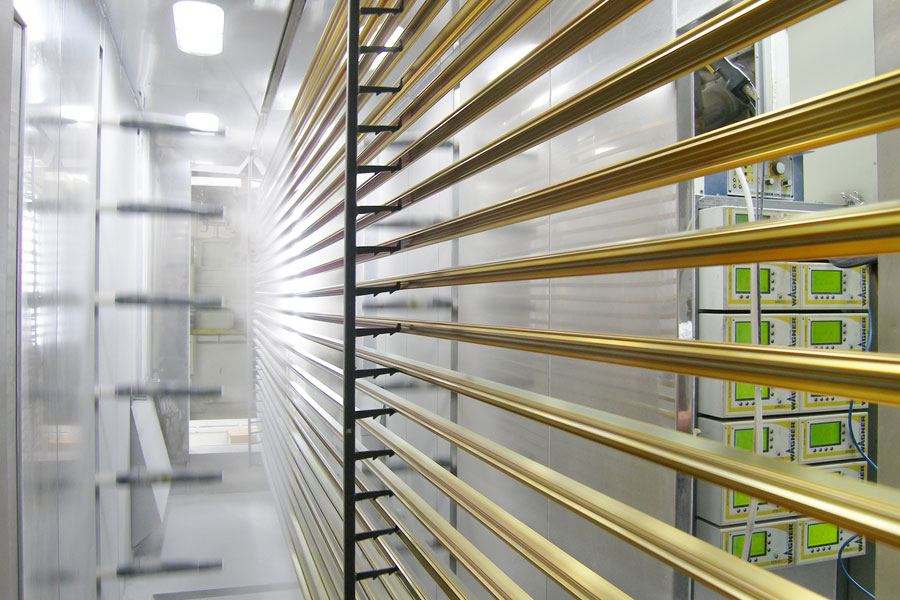 The prerequisite for a durable protection and beautiful appearance of coated metal surfaces is their appropriate pretreatment. Adhesion-reducing impurities (e.g. rolling oils) are detached by degreasing and etching and the natural oxide layer is removed.
In a second procedural step a new layer will be applied, generally a yellow chromate or anodising layer. This very thin chromate or anodising layer conveys excellent adhesion properties to the coating and passivates the metal surface (see ill.). The passivation along the metal edges and of spots with deep defects in the coating film that reach down to the metal surface prevents furthermore corrosion-creep in the coating.
Between the operations the material is thoroughly rinsed. The last pretreatment step consists in the drying of the coating in the convection oven.
Powder coating the process
Subsequent to a 100% drying of the chromate layer the polyester resin is electrostatically charged in a closed booth and is sprayed on electrically grounded parts by means of compressed air. Residual powder is recovered and recirculated.

Aluminium surface with coating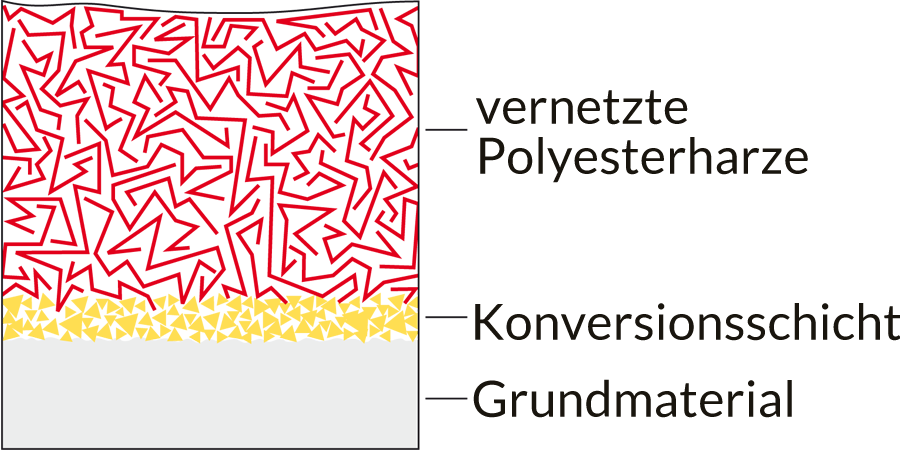 At a baking-in temperature of about 180°C the powder begins to smelt in a first step while fixing within the chromate film and a crosslinking reaction occurs. As a result, a continuous and firmly adhesive polyester resin film emerges, which is characterized by a high weathering resistance and shows good mechanical properties (see ill.). The film thickness is of 80 µm ± 20 µm.
Properties
For outdoor powder coating applications we use high-end polyester resins that perfectly meet the demands of weathering exposure (see quality, GSB). Appearance and applications of the powder coating may be adjusted by the use of the respective formulation.

Powder coated aluminium products may be milled and the powder coating offers a high chemical and thermal resistance.
Powder coated metal components combine high functionality, an aesthetic appearance, protection and low maintenance. A broad offer of shades and textures provides you countless possibilities to design surfaces and thus design the appearance of the idea you put in aluminium or steel.
DURA®face 58
DURA®face 58 is our weather resistant coating system for all aplications with normal technical and high optical requirements.
The 58 series is ideal for normal UV radiation according to the quality guidelines of GSB and Qualicoat as well as AAMA 26003-05 corresponding to 1 year Florida outdoor exposure.
Based on saturated polyester resin, with the corresponing hardener plus special heat, light and chalk resistant pigments.
Characteristics
• excellent weather and light resistance
• impact-resistant surface with excellent flow
• good elasticity
• no yellowing in direct-heat gas furnaces.
Anwendungen
• Facade elements, window profiles,
• Bicycle frames
• Agricultural machines
• Garden and Camping furniture
• Housings for automatic devices, switch cabinets
• Lights
• Balcony parts
The DURA®face 58 product range is available in a variety of qualities and surface types in an extensive color palette.
Qualities Surface appearance
DURA®face 5803 smooth flowing, mat
DURA®face 5807 smooth flowing, silk gloss
DURA®face 5809 smooth flowing, gloss
DURA®face 581M fine structure, matt
DURA®face 591T fine structure, deep-matt
HWFclassic
High weather resistant Powder HWF classic (formerly known as HWF 3001)HWF classic has been developed for high-end applications.
HWF classic HochWetterFest, for facades, with high UV and weathering resistance
HWF classic is available in an expanded range of HWF colors in gloss, satin, matt as well as translucent finishes.
All HWF coatings are equipped with the DURA ®clean technique.
HWF classic performance data
• 10 year warranty on color stability and residual gloss according to the standards AAMA 605.2-92, Qualicoat standard cl. 2
• Emmaqua results according to ASTM-G 90-91, proc.B
• 3 years Florida exposure according to ISO 2810
• solvent-free, unproblematic disposal as compared to fluoropolymers
• more than 1.000.000 m2 powder coated reference objects worldwide
• exempt from labelling
• no highly toxic substances such as e.g. fluorinated hydrocarbons are released in case of fire
• can be repaired
• convenient baking temperatures from 180 °C
Application fields: Large-scale constructions; buildings in locations with extreme climatic conditions; high-rise buildings; etc.
Surface characteristics, gloss levels
HWF 5909, gloss, 85 – 100,R '/60 °
HWF 5907, silk gloss, 65 – 85,R '/60 °
HWF 5903, matt, 25 – 35,R '/60 °
glitter pearl effect
Available colors
• about 100 RAL-shades
• about 700 NCS-S- shades
• glitter pearl shades (single coat)
• various color gradings based on specimen
Special applications
In seashore areas we recommend the application of 2 coats as follows:
• base coat Korroprimer
• top coat HWFclassic
Bright silver effects with system authorization Qualicoat P-0481
• base coat HWF 5903D
• clear lacquer HWF 5903B
HWF superior
High weathering resistant Powder HWF superior is a quality-certified coating powder for very high demands placed on the weathering resistance for the commercial sector based on saturated poly- ester resin and declaration-free hardener.
Surface appearance
• 5707A, smooth finish, silk gloss with DURA®clean effect
• 5707E, pearl mica effect, silk gloss with DURA®clean effect
Gloss level, ISO 2813: 65 - 85 R'/60°
• 5703A, smooth finish, matt with DURA®clean effect
• 5703E, pearl mica effect, matt with DURA®clean effect
Gloss level, ISO 2813: 25-35 R'/60°
• 571TA, fine structure, deep-matt
• 571TE, fine structure, deep-matt with pearl mica effect
Characteristics / application
• Architecture elements such as: facades and window profiles
• Industrial structural elements and objects for use outdoors
• Infrastructure facilities
The coatings have good mechanical values and high resistance to chemicals. High UV resistance, slower film degradation and the dirt-repelling properties of the film surface allow much longer intervals between facade cleaning operations.
®clean- effect the HWFsuperior products possess a surface which can be cleaned eysily.
Deep-matt powder DURA®xal
Dull matt Powder DURA®xal
DURA®xal 4201 is a new generation of dull matt, highly weather-resistant coating powders based on acrylic-copolymer resins, with corresponding hardener combinations and heat, light and chalking-resistant pigments.
DURA®xal 4201 is the product of many years of IGP development for the optimi- sed presentation of eloxal colours and dull matt, distinguished surfaces for the industrial and high-quality design sector. At the same time, the innovative bonding agent combi- nation permits outstanding gloss retention, excellent coating characteristics and good resistance to both chemicals.
Characteristics
• Outstanding light and weather resistance
• Dull matt surface
• Eloxal effect look
• Excellent coating characteristics
Area of application
• Façade elements
• Window profiles
• Design elements
• High-quality office furniture
Surface aspects
• 4201A, smooth finish, dull matt
• 4201E, pearl mica effect, dull matt
• 4201H, crystal-color, dull matt
gloss level, DIN EN ISO 2813: < 12 R'/60°
DURA®clean
DURA®clean – the technical effect
Coatings equipped with DURA®clean possess a hydrophobic surface thanks to a highly effective admixture. Dirt particles cannot easily adhere to the coating's surface and are beaded away by water. The additives used are distributed throughout the coating's structure and have a permanent effect, in contrast to a subsequent (temporary) application of preservatives. This improved dirt-repellence requires fewer cleaning interventions and implies lower maintenance costs in general. Moreover, the costs for each individual cleaning intervention are reduced all the same.
The robust effect
Coatings furnished with DURA®clean withstand cleaning better and excellent results are obtained from use of non-abrasive cleaning with sponges and water.

DURA ®clean is available as an optional extra in all standard qualities of the whole range of colors.
Additives are integrated during powder production. All HWF powders are equipped with the DURA ®clean technique.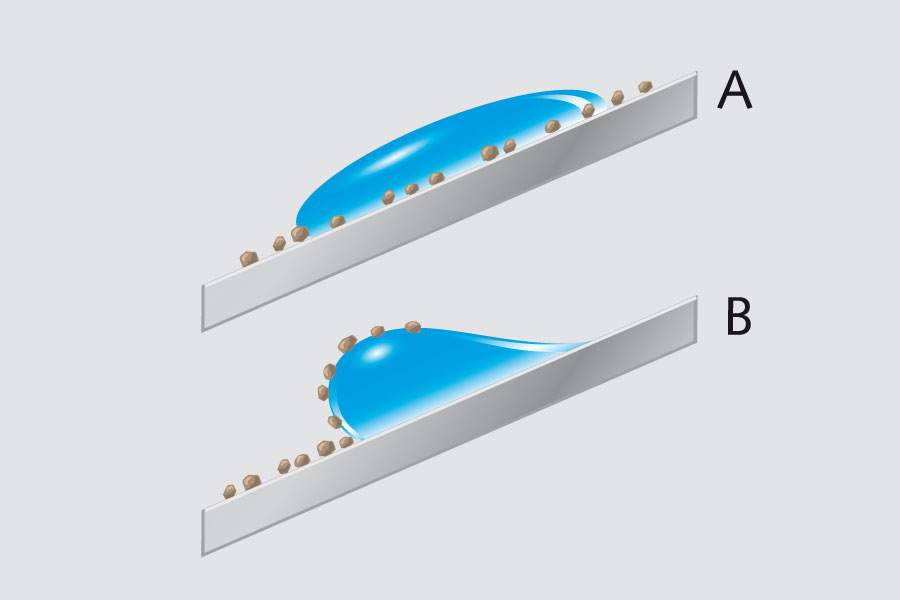 A = non hydrophobic surface
B = hydrophobic surface with DURA®clean effect